Nose thread lift scars can happen. Most patients and indeed doctors would consider scarring from nose thread lifts to be rare. It is, indeed, uncommon to develop scarring from nose thread lifts in Singapore. Uncommon, but not impossible. Ask any doctor who does nose thread lifts whether scarring is possible, and it is likely that you'll get that answer.
A common saying in medicine states: if you haven't had complications from a procedure, it may just be that you've not done enough of these procedures. After doing nose thread lifts and treating patients with nose thread lifts for many years, I have noticed that nose thread lift scarring, while unlikely, is actually more common than most people think. Most of the time, the scarring is relatively subtle and only noticeable on close inspection. Sometimes though, it can be very obvious and even disfiguring.
Why does scarring develop after nose thread lifts?
In Singapore, two non-surgical options for beautifying the nose are nose thread lifts and nose fillers. Nose thread lifts have some advantages over nose fillers and both nose contouring treatments carry a low risk of scarring. However, relatively speaking, nose thread lifts actually have a higher risk of scarring than nose fillers.
Nose fillers are viscous gels that can be injected through very fine needles or cannulas. In contrast, nose thread lifts are inserted through one or two relatively large bore punctures just below the tip of the nose.
As multiple threads are pushed through the same entry point (sometimes 20 times or more per nose thread lift), the skin around the nose thread lift insertion site gets traumatized a lot more than in nose fillers. This naturally increases the risk that the skin may not close up perfectly around the access point, increasing the risk of scarring. Apart from the trauma, the usage of the same larger puncture to insert multiple threads also increases the odds of bacteria entering through or being pushed into the wound. This causes an infection that may then lead to scarring.
Nose threads are also relatively hard compared to fillers. Incorrectly placed nose threads may cause irritation to the surrounding skin, precipitating scarring. This is even more likely if the threads have extruded.
Lastly, like nose fillers, nose thread lifts are temporary procedures and hence have to be repeated. However, unlikely nose fillers, nose thread lifts tend to be done via the same small area each time. Repeated damage to the same area of skin over the years can raise the chances of scarring.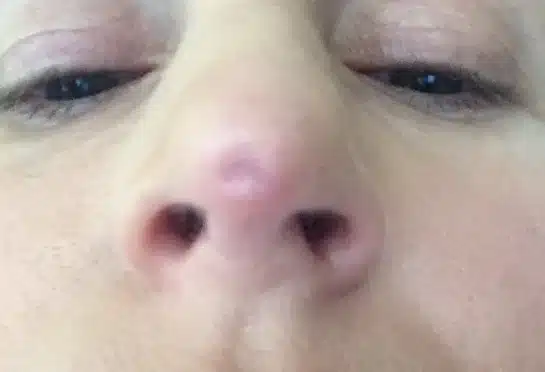 How to prevent scarring after nose thread lifts?
Since we know that scarring after nose thread lifts can happen, we need to take steps to actively prevent it. Even if it is relatively uncommon, scarring is a potentially serious complication. There are many little-known adjustments we can make to reduce the chance of nose thread lift scars developing.
Infection Control and Nose Thread Lift Scars
Infection is the culprit in most of the cases of severe scarring after nose thread lifts that I've seen. While most clinics in Singapore will practice aseptic techniques, the same cannot be said of salons or home-based therapists where some patients chose to do nose thread lifts. Even aseptic technique at medical clinics is subject to a wide variation in terms of attention to detail. I've witnessed many procedures where more could have been done to reduce the risk of infection in nose thread lifts.
Instead of just using an alcohol swab to clean the entry point, it is safer to disinfect a wider area around the entire nose as there may be inadvertent contact during the nose thread lift. Personally, I make sure to cover the nose, lips, mouth, and inside the nostrils. Proper sterile equipment such as gloves and instruments should be used. Great care should be taken to maintain the sterile field and avoid contamination that may introduce infection.
Antibiotics are also essential as some bacteria may still have gotten past the precautions. Infections may actually surface relatively later so it's better to be safe than sorry.
Nose thread lift entry point and scarring
The creation of the entry point is very important to prevent nose thread lift scars. When selecting the location of the entry point, it should not be too far forward as this is easily visible. On the other hand, if the nose threads are inserted from a point that is too far back, the passage of the threads may be blocked by the cartilage of the nose.
As mentioned earlier, the entry point needs to be relatively big to allow the passage of thick threads. Most doctors would use a sharp needle slightly larger than the diameter of the nose thread to create an entry point. However, with a larger hole, the risk of scarring is higher. With a smaller hole, even if nose thread lift scarring does occur, at least the scar will be physically smaller. A special dilator instrument is required to insert thick threads through relatively small needle punctures. Not all clinics would have this.
Lastly, for patients that are very prone to scarring, the entry point can be placed within the nostrils. Even if scarring does occur, at least it is not visible. However, internal access carries a higher risk of infection. It is also harder to insert the nose threads properly and ensure a good position. Thus this should only be attempted by experienced practitioners.
Nose thread scars and thread placement
Besides taking extra care when creating the entry point, there are also nuances when it comes to the placement of the nose threads. Firstly, the nose threads should be inserted with as little trauma as possible. I usually create a passage and insert all the threads within that to avoid repetitively pushing through the tissue, which may cause more scarring.
The nose threads should not be placed too close to the skin as well, as that may cause irritation and increase the risk of extrusion. Ready-made nose threads often do not fit perfectly into the nasal dimensions. If the nose threads are too long, they may protrude and press against the surrounding tissue increasing the risk of scarring. Customization of the nose threads prior to insertion will prevent this.
Lastly, although the solid threads can be used to physically lift the nose tip, this should not be overdone. Excessive loads on the nose threads can cause pressure to the overlying skin tissues, affecting their blood supply and potentially causing scarring.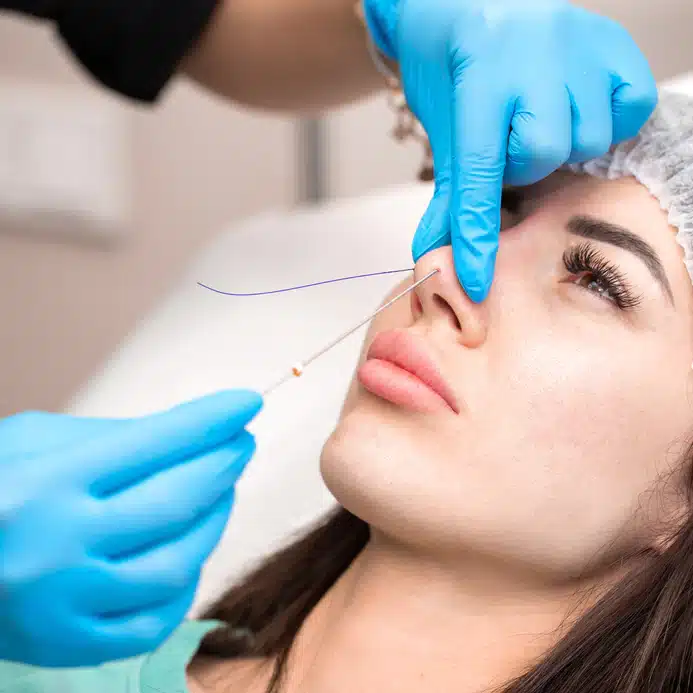 What you should do if you are considering nose thread lifts
Nose thread lifts are very common now. Nose thread lift prices in Singapore have come down. This may have led patients to think that it is a simple procedure devoid of complications. Contrary to popular belief, serious complications like scarring can and do occur after nose thread lifts. There are many technical details that can reduce the risks of nose thread lift scarring. Not every doctor will follow these when placing nose thread lifts. At the very least, go to a licensed doctor that you can trust. If you have questions about nose thread lifts, please feel free to contact us!
References